Member news and activities
This section features previous news and updates from single healthcare service members, national/regional networks and associates
For World No Tobacco Day on May 31, 2018, the "Josefhof-team" was accompanied by a mobile Café right in the heart of the city center of Graz.

Smokers' consultations as well as carbon monoxide measurements were carried out diligently. Those who past us smoking were asked to throw cigarettes into a tube, for which the Josefhof would donate 25 cents a piece to the children's cancer aid.
As a thank you, the willing donors were offered a free coffee and an anti-stress ball, which might replace some cigarettes in stressful or annoying situations.

But also non-smokers did not go empty! They also received coffee and a ball for a voluntary donation to the children's cancer aid and were well entertained by our barista.

The promotion was a great success!
Altogether numerous cigarettes and 266 euros were collected for a good purpose!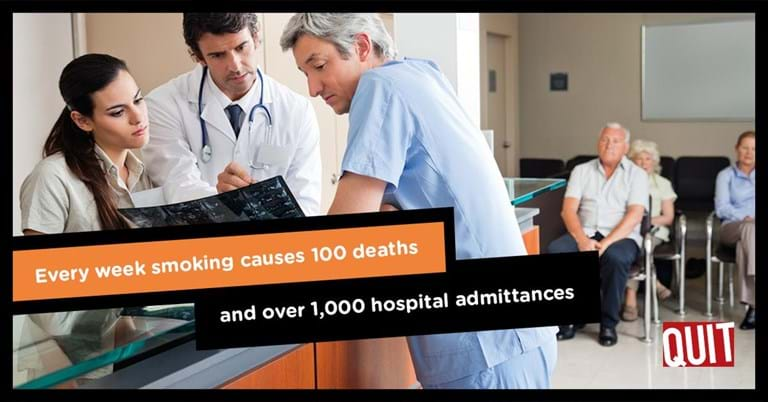 This year for World No Tobacco Day (31 May), the Tobacco Free Ireland partners came together to mobilise and empower community action at a conference at Farmleigh. The event supported the drive towards achieving the government's Tobacco Free Ireland 2025 goal of less than 5% smoking prevalence in Ireland.
The "Klinik Barmelweid" held an event for all employees for World No Tobacco World Day - to show how smoking affects our body's sensory system.
All employees received different fruit juices free of charge and were used to demonstrate how our senses support us to stay healthy!
The senses are indispensable for humans because they protect us and help it to orient itself. The classic senses are taste, hearing, sight and the sense of smell and touch. The senses are the "alarm sensors" of the body and therefore are a classic protective mechanism, which protect the body from danger.
Smoking unfortunately inhibits our ability to taste and smell. The good news is after you stop smoking for 48 hours, smells and scents are better perceived again, and the sense of taste improves.
Topic of this year's "World No Tobacco Day" campaign at the Kantonsspital Baden Hospital was focused on the sense of smelling with the intention: "Instead of smoking a cigarette, enjoy a bracing smell of a refreshing tissue first".
More than 700 refreshing tissues were distributed
Many expert talks were hold
Some requests for a "No Tobacco Future" were registered at the nicotine consulting station.
"Would you like to change your behaviour of smoking? We can assist you!" Referred to the recent study of the Addiction Monitoring in Switzerland, about 1/3 of the smokers have the purpose to give up smoking within the next six months.
Just even little changes can help, step by step, to reach a personal smoke-free future.
Other member activities
15 April 2017; Spreading the Tobacco Free Healthcare Message in Aragón Region, Spain
Marta Alquézar Fernández, coordinator of the Hospital Smoke of Alcañiz, shares below in English a summary of their projects and activities with some photographs since joining in 2014. Actions relate to promotion, prevention and treatment of smoking/tobacco in their hospital and neighbouring villages.
Drawing contest in the schools of the population of Alcañiz, for WNTD2015
Signage Improvement Project to profile renewed the anti-tobacco law that must by law be implemented in the healthcare places.
Participation in several regional and national congresses informing about our project and its results, even winning prizes for the best Neumosur 2015 communication.
Every year, on May 31, we hold a briefing table in the hospital with information and advice to all the people who visit the hospital and the realization of coxymetrics, in addition we are asked by the local and autonomous media to give our contribution these days.
Classes of prevention of smoking in 2016 in the School of Alcañiz San Valero Escolapios taught for the ages between 9-12 years.
Informational class for the parents of the children in this age group, but open to all the population of Alcañiz. 2016 Hall of Acts San Valero Escolapios.
Teaching: Courses have been given for health personnel for both doctors and nurses. In Zaragoza, for the cardiac rehabilitation unit in 2015, for the nursing school of Zaragoza in 2016 and 2017. For residents of Pulmonology in 2017. Also in the Hospital of Alcañiz itself for both workers and users.
In 2017, the signage of the hot spots where some users and some workers continue to smoke, has been greatly improved. Both with banning messages and messages about health promotion.
In 2017 also talks in the municipal school of La Codoñera (town near to Alcañiz) for children between 9-12 years.
Throughout 2016 and 2017 we have been meeting with the Miguel Servet Hospital, Royo Villanova Hospital and Provincial Hospital to help them take their Hospital Smokeless project and create a Smoke-free Hospitals Network in our Community.
Several publications have been sent to national and regional congresses on the results of the smoking consultation.
We have managed to extend the available time for the smoking consultation in the Hospital of Alcañiz. We even take care of patients admitted and we have managed to manage patients with drugs not funded by our health system, drugs that are very effective and for which an extraordinary economic item has been made.
This year 2017 we have implemented a project between us and nearby health centres to improve patient care for smokers by creating current care and treatment protocols, as well as improving referral and access to tobacco consultations. Improving and updating the knowledge of health professionals who are interested in this work.